Whoopi: Trump Stopping Mob Violence Is 'Attack On American People' – Regrets It
Whoopi Goldberg let loose on President Donald Trump's promise to get rioters in cities under control, saying that federal intervention amounted to "a planned attack on the American people."
Poor Whoopi didn't know what hit her as she got utterly destroyed by the cold hard truth. You'll love this.
Goldberg brought the topic to the table Tuesday on ABC's "The View," questioning the Trump administration's authority to engage with protesters in cities — particularly without the permission of local authorities.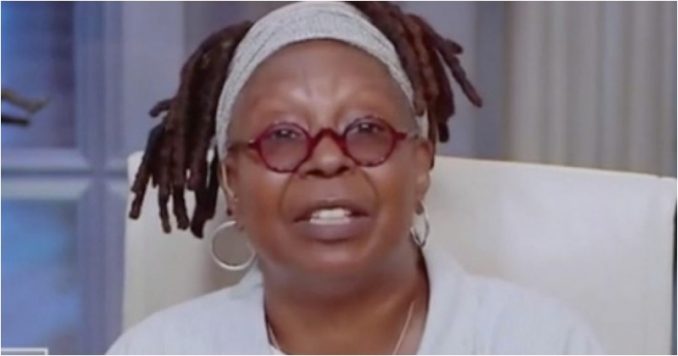 "Well, you know, I've sort of been saying this for a while that everybody needed to pay attention to the little things, you know, to the little things that are being done and, you know, where is — where is Barr?" Goldberg began, arguing that it wasn't right for the president to simply declare that he was going to send people in.
"He's wanted a fight from the beginning, from the moment he came in, he wanted to fight somebody, and now he's found a way to do it," Goldberg continued.
Cohost Joy Behar argued that Trump's actions were playing right into the hands of Russian President Vladimir Putin, adding that the only way to stop it would be to also get rid of the Republicans in the Senate who have supported Trump.
What? Trump is playing into the hands of Putin? Whoopi and her cohorts have all lost their minds. Trump Derangement Syndrome is real, and these cohosts all have severe cases.
Well, within hours of Goldberg and her crew claiming Trump sending in the feds amounted to an "attack on the American people," a real shootout happened in Chicago.
Goldberg and her cohosts all took the side of Chicago's Mayor Lori Lightfoot who said Tuesday afternoon: "Under no circumstances will I allow Donald Trump's troops to come to Chicago and terrorize our residents."
Under no circumstances will I allow Donald Trump's troops to come to Chicago and terrorize our residents.

— Mayor Lori Lightfoot (@chicagosmayor) July 21, 2020
Just hours later, a mass shooting erupted in Chicago with 15 citizens injured by a rain of gunfire at a funeral.
"At least 15 people were shot Tuesday evening in an attack on people attending a funeral in the Gresham neighborhood and one person was in custody, authorities said," Chicago Tribune reports. "The funeral attendees exchanged gunfire with those in the vehicle," he said.
A neighbor, who asked not to be identified, said it sounded like multiple weapons were used in the shooting.
The neighbor said multiple victims fell in front of a liquor store between a laundromat and a funeral home on 79th Street, and many were bleeding.
Fourteen people were being treated at five area hospitals, Carter said.
A 65-year-old woman, was treated at the scene, police said.
Most were in serious to critical condition when they were taken to the hospital, according to Chicago Fire Department spokesman Larry Langford.
Carter said there were 60 shell casings on the scene.
The number of shooters was still being determined by detectives, he said. After initially saying there were at least 14 victims, Chicago police gave an update Wednesday morning that there were at least 15 victims.
So, what did Whoopi and her cohorts have to say about this carnage? Not a thing. In fact, the producers of The View knew they had made a huge mistake by allowing Goldberg and her crew to make their wild accusations against Trump and take the side of Democrat mayors like Lori Lightfoot.
The Chicago shooting is big news, and the fact that The View covered at length the feds being sent to stop the mob violence, it was a no-brainer Goldberg should have followed that up with this Chicago shootout.
Americans including many who live in Chicago made sure Lori Lightfoot and the leftwing sycophants like Goldberg and her crew got their message loud and clear about the ongoing violence.
"I lived in Chicago for 32 years, we cried, begged, and pleaded for the murders and shootings to stop. I welcome DHS and so does almost all born and raised Chicagoan's. You're not in tune with the people," tweeted "New Peter, Who This?"
"Since this tweet, mass shooting at a funeral. 13 shot. We Need Help Lori!" he added.
Under no circumstances will I allow Donald Trump's troops to come to Chicago and terrorize our residents.

— Mayor Lori Lightfoot (@chicagosmayor) July 21, 2020
Under no circumstances will I allow Donald Trump's troops to come to Chicago and terrorize our residents.

— Mayor Lori Lightfoot (@chicagosmayor) July 21, 2020